A • B • C • D • E • F • G • H • I • J • K • L
M • N • O • P • Q-R • S • T • U • V • W • X-Z
Welcome to the Lincoln Cent Forum Glossary.
Use the alphabetical links above to navigate to the desired term.
This glossary of terms was written and compiled by Will Brooks with the help of our forum members. A huge thanks to everyone who contributed knowledge, ideas, words, and photos to make this growing educational resource possible. Special thanks to Richard Cooper, aka "Coop" who donated many of the photos.
Lamination Error: This is when metal cracks and flakes off of the surface of a coin, due to impurities in the alloy mixture. These occur almost exclusively on solid alloy coins, and are therefore found on pre-1982 Lincoln cents. The flaking piece may still be attached (retained) or can be missing.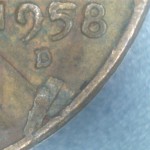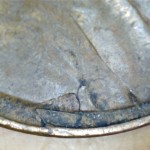 Large Date: In the Lincoln cent series there are 4 years that saw a mid-year design change in the font of the date, resulting in "Large Date," and "Small Date" issue varieties released within those years. Those years are 1960, 1970 (S mint mark only), 1974, and 1982. Please see Jason Cuvelier's excellent tutorial on the subject Here.
Late Die State: Coins that are struck late in a die's life are considered Late Die State. These specimens will show extensive signs of die deterioration, such as heavy radial flow lines, ridge rings, mushy-looking devices, more progressive die chips and cracks, and possible die deterioration doubling.
Lathe Line: A section of a spiral line seen on a coin resulting from inadequate polishing of a die blank after it is lathed and before it is hubbed. Sometimes referred to as Concentric Lathe Rings, it is actually one continuous spiral, and not truly concentric rings as the term suggests.  A comprehensive list of lathe lines can be seen and attributed at errorvariety.com.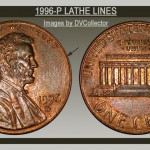 Late Stage Die Cap: See Die Cap.
LB: Initials for Lyndall Bass seen on the reverse of shield cents. Bass created this design which was sculpted by Joseph F. Menna.
LC: See Initials.
Legend: The legend on a coin usually refers to the nation of origin, but also can include the date and denomination.
Lincoln Cent: A United States one cent coin issued from mid 1909 until the present, bearing the visage of Abraham Lincoln on the obverse, designed by Victor David Brenner. From 1909 until 1958, the Lincoln cent featured the wheat reverse, also designed by Brenner. From 1959 until 2008, it featured the memorial reverse, designed by Frank Gasparro. In 2009, to celebrate it's 100th anniversary, 4 different reverse designs commemorating Lincoln's life were used. (See Birth and Early Childhood in Kentucky, Formative Years in Indiana, Professional Life in Illinois, and Presidency in Washington D.C.) From 2010 to the present, the reverse design is the shield reverse, designed by Lyndall Bass.
Linear Plating Blister: See Blistered Plating.
Loop: A frequently seen misspelling of Loupe.
Loupe: A small hand-held magnifying device used for (among other things) viewing coins.
Lucky Cent: See Encased Cent.
Lyndall Bass: The artist who designed the shield reverse used on the Lincoln cent from 2010 until the present. Her initials, LB, are seen on the reverse of these cents.
Luster: See Mint Luster.